January is a hectic time in the football world, with the transfer window opening on the first and closing on the 31st. This is a time when clubs evaluate how the season is going and if they need to add new personnel to the squad. Usually the market is very sparse and players' prices fluctuate due to the timing of letting a player go.
One player clubs should keep an eye on is Brentford striker Ivan Toney, who is currently suspended for eight months, ending in January. This is due to breaching the Football Association betting rules 262 times in total, being fined £50,000.
"Reminiscent of Harry Kane"
Many compare him to Harry Kane as he is the perfect all-round striker who can provide not only goals but play a big part in linking up play. Brentford's manager Thomas Frank described him as possessing "link-up play, finishing, timing in the box and awareness" when being promoted to the Premier League and insisted he "has got all the abilities to score goals in the Premier League" – in which he was correct!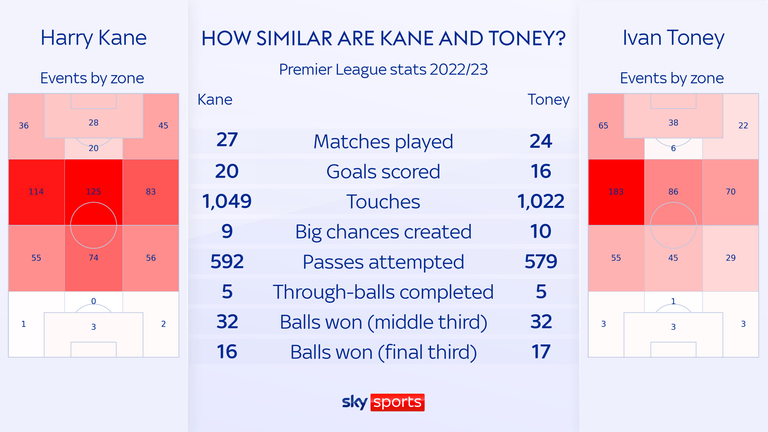 Aerial duels are where Ivan Toney excels past Harry Kane. He was ranked 6th in the Premier League last season, in which he won 109 aerial duels compared to Kane's 66. When he returns to football, there is no doubt he will be battling for a place in the England starting lineup. This also put him at the top of the list for expected goals from set pieces, with a total of x5.36.
Striker market is scarce
At the moment, there is a shortage of top strikers available on the market. In January, this is a time that clubs will not want to let players go unless necessary. Due to the situation, Brentford has had to adapt to life without Ivan Toney, in which they have completed the loan signing of Neal Maupay on a season-long loan with an option to buy. This possibly hints they are happy to let Ivan Toney go for the right price.
He possesses the quality to play in a top league like the Premier League. At only 27 years old, and this is exactly what Chelsea manager Pochettino reportedly said he is the "ideal choice as he is English, at the right age and proven in the Premier League."
What's your thoughts on Chelsea being linked to Ivan Toney? pic.twitter.com/Z2cWhTjRGt

— Frank Khalid OBE (@FrankKhalidUK) September 12, 2023
Chelsea and Tottenham interested
Despite all the drama regarding his suspension, both Chelsea and Tottenham are willing to go head-to-head for Ivan Toney in January, with Chelsea's Christopher Nkunku out for at least four months, and Harry Kane leaving Tottenham for Bayern Munich in the summer, he seems to be the main priority for both clubs.
Considering what he has showcased to the Premier League already, it is no surprise that there will be news regarding a big move. Before the news of the suspensio,n it looked like he was on the way out of the clu. Now with Brentford seemingly finding a replacement lined up, they will likely cash in for him if the right price comes in.
How much is Ivan Toney worth?
As estimated by Transfermarkt, before his suspension he was at his peak market value of £43 million, and is now sitting at around £30 million. Brentford will want to demand the most they can out of the sale of Ivan Toney, and it will be likely that they will cash in at around £40m-£50m considering the circumstances around the player.
There is no doubt other clubs will want to test their luck with signing the strike. The likes of Arsenal and Manchester United could possibly enter the race. There will likely be interest from clubs abroad also, the more interest the better for Brentford, as they can increase their price tag depending on the amount of competition for him.