Everton look to take on Watford this Saturday in what proves to be a thrilling...
Pochettino Faces a Real dilemma  Mauricio Pochettino and Tottenham face a defensive crisis just days ahead...
Tottenham Hotspur v Crystal Palace Match Review Crystal Palace manager Roy Hodgson faces a tough weekend....
One of the longest running transfer talk comes to an end as Liverpool managed to...
Is this the maddest day of a season, 3 game weeks in, 35 to go...
Barcelona's problems are now increasing day by day as transfer window moves into its last...
Valencia CF have beaten Leganas 3-0 at home to keep up the pace behind top of the league Barcelona, onto 27 points from 11...
After the departure of Neymar and poor transfer window, it was being said that Barcelona's star Lionel Messi is not going to sign a...
Real Madrid's President Florentino Perez wanted to sign Ousmane Dembele From Dortmund but Zidane blocked the move. Embed from Getty Images According To Don Balon, Perez was...
Tony Pulis Sacked. Who will replace him? Tony Pulis has been sacked as manager of West Bromwich Albion, following a disastrous start to this season. With a run of ten games without a victory, the Hawthorns sit just above the...
Arsenal youngsters who deserve a first-team call-up Arsenal's Premier League 2 team has some great young talents, and some of them could potentially make their Premier League debut soon. Even with Arsenal's deep squad depth, and all the new players...
Arsenal come out on top in the North London Derby Arsenal continued their 100% home record with a 2-0 victory over bitter rivals Tottenham. Shkodran Mustafi put Arsenal ahead against the run of play in the 36th minute after heading in an...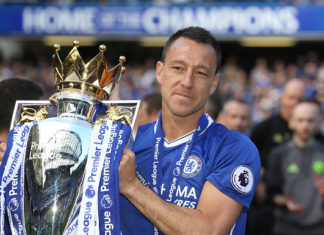 Best Team Captains in Premier League History The Premier League has seen a number of great football players and captains alike. These two roles do not always coincide with each other, as a single player may be crucial to the...
In Spain, Fernando Torres is nicknamed as "El Nino", the kid. However, that was in his youth, tearing up trees during his first spell at Atletico Madrid. The 110-capped Spanish International now in his twilight years. With a lack of...
Will Tony Pulis get sacked soon? Will Tony Pulis get sacked soon? What are the long-term ambitions of West Bromwich Albion? Is Tony Pulis the man to take them to the next level? The sacking of managers in the modern...
There was plenty of world-class talent on display when the Premier League season started. When talking about goalscorers, two names were brought about more than any others. And within the first weeks of the competition, there was confirmation that...
For the first time since 1958 the Italian National Team will not be taking part on the world's biggest stage. An uninspired Italy failed to score over two legs against Sweden with many pointing at coach Gian Piero Ventura...
Arsenal v Tottenham: The North London Derby preview After the international break, it's back to full on football when the first North London Derby of the season kicks off at the Emirates on Saturday. Arsenal host arch nemesis Tottenham in a...
Valencia CF have beaten Leganas 3-0 at home to keep up the pace behind top of the league Barcelona, onto 27 points from 11 games, thanks to goals from Dani Parejo, Rodrigo Moreno and Santi Mina from the spot. It's...