With the October international break now upon us, it is the perfect opportunity in which to take stock of the Bundesliga thus far and with Bayern Munich suffering a shock defeat in the second week of the season, they have ceded early ground to a championship rival.
Of course, there is a long way to go in terms of proceedings and with another 31 matchdays still to take place between now and next May, there is plenty of opportunity for the Bavarian outfit to start their title tilt in earnest. 
Even after suffering a surprise 4-1 defeat away at Hoffenheim, Bookmaker has Bayern as favourite to win the Bundesliga and it will take a brave man or woman to bet against Hans-Dieter Flick and his cabal of superstars.
Odds by Bookmaker, check their review.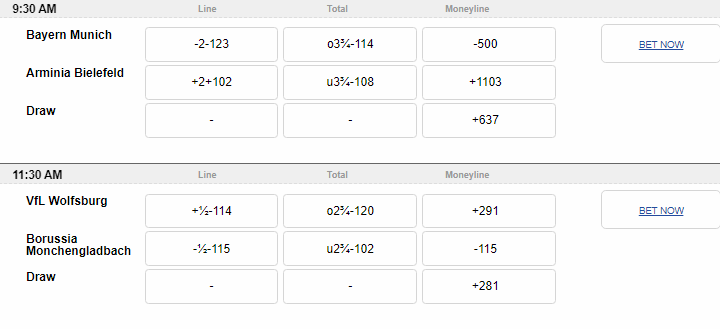 With the last eight editions of the Bundesliga being won by the team based at the Allianz Arena, there is little reason to suggest the tally will not be extended to nine and after winning a domestic and European treble last season, they've already added silverware this time around.
Admittedly it is only the UEFA European Super Cup and critics will argue that it is nothing more than a glorified friendly. However, any act that feeds their winning machine will be highly welcomed by all connected with the club.
The win over Sevilla in the Hungarian capital of Budapest, came just three days before their shock collapse to Hoffenheim and if you were to offer some form of mitigating circumstance, it is perhaps their efforts in Central Europe required an additional 30 minutes than usual.
When you consider that so many teams are finding their feet at the start of the season and fitness levels are not at what you would consider optimum, the extra-time exertion against Sevilla may well have had a knock-on effect.
Then again, on the flip side, one could argue that the workout that was afforded to the likes of Robert Lewandowski and Serge Gnabry, should have then provided them with additional sharpness for the trip to Hoffenheim.
Whichever way you look at it, Bayern were back in business the following week and even though it needed a late show from their talismanic figure Lewandowski, they did eventually return to winning ways against Hertha Berlin. 
Even so, this game did highlight once again that they are susceptible to opposition attack and even though they have scored 13 times already this season, they have also conceded seven goals at the other end.
It may be a cause of frustration for the manager but it is certainly welcomed by neutrals watching at home and when you also take into account their emphatic opening weekend 8-0 win over Schalke, the early entertainment levels have been incredibly high.
#FCBayern's 8-0 win against Schalke is the highest win ever achieved in a season opening game in the Bundesliga. #FCBS04 pic.twitter.com/yAieoJ2wTH

— Home Bayern (@_HomeBayern) September 19, 2020
While if Bayern are not top of the shop, the question is who else sits on the highest rung of the league ladder and the answer to that is an RB Leipzig side, that no longer possesses the goalscoring prowess of Timo Werner.
His move to Chelsea took place over the summer and although the energy drink backed club would have been dealt a hammer blow after his departure, they certainly are not feeling sorry for themselves either.
They've picked up seven points from the first nine on offer and the only blemish thus far, was a 1-1 draw away at Bayer Leverkusen, who themselves have lost a key talent to Chelsea over the course of the summer.
Kai Havertz has also followed Werner to West London and it is fair to say that his former side are lacking some attacking spark, as they have drawn all of their first three games of the season and find themselves lying 14th in the Bundesliga table.
While one of course cannot talk about the Bundesliga without mentioning Borussia Dortmund and with the Black and Yellow also on six points from a possible nine, they sit just behind Bayern in the table at present.
Which means once the first wave of international duties are out of the way, the season really begins and when the two giants of German game get into full swing, it should be the usual two-horse Bundesliga title race that plays out. 
Main Photo: