Emiliano Martinez might be the best Argentina goalkeeper today, but it is still doubtful to say that he is the best one for Albiceleste in World Cup history.
Aston Villa's Emi 'Dibu' Martinez has just clinched FIFA Best Awards as the Best Goalie this year. His incredible form in World Cup 2022 earned him the award of the best goalkeeper in the tournament. It is undeniably the key factor of his success, despite only keeping clean sheets in three games.
He is definitely the best Argentina goalkeeper at the moment and for a foreseeable future. The 30-year old goalie still has plenty to offer, provided he can keep up with his current form. In fact, Dibu may win more titles, either in Copa America 2024 or perhaps World Cup 2026 later.
🧤1 month ago,Emi Martinez's save ensured that Argentina became FIFA World Cup champions.#ArgentinaCampeondelMundo pic.twitter.com/bygmlg96m6

— FIFA World Cup Stats (@alimo_philip) January 18, 2023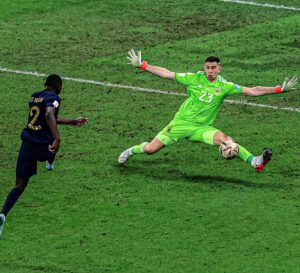 However, the fact about him being the best Argentina goalkeeper in world cup history is still debatable. Despite being the first and only Argentine shot stopper to win FIFA Best, Dibu's performance is not significantly better than that of his notable predecessors such as Sergio Romero, Sergio Goychochea, Nery Pumpido, Ubaldo Fillol or Angel Bossio. So, where does he rank among those figures who managed to help Argentina advance to the world cup finals? Is he still the best one?
Embed from Getty Images
Emiliano Martinez is yet The Best Argentina Goalkeeper in World Cup History
Dibu's Less Likely Contenders
Compared to Angel Bossio, Nery Pumpido or Sergio Romero, Emiliano Martinez is bound to be more superior. Their form in the world cup final round was still below his own. It is no surprise that they are Dibu's less likely rivals as the best Argentina goalkeeper.
Angel Bossio was apart of Albiceleste squad when they won Copa America 1927 and 1929. He also helped them reach the final in Olympic Games 1928 and World Cup first edition in 1930. Sadly, Argentina suffered a defeat from Uruguay in both occasions. Bossio himself was only able to keep the clean sheet in one game in the latter championship.
Nery Pumpido was the main figure between the sticks in World Cup 1986. He managed to keep the clean sheet in three fixtures in the competition. However, he only made a few clinical saves. The former Real Betis man was at the peak of his form when Argentina beat Belgium 2-0 in the semifinal thanks to Diego Maradona's amazing brace.
In Italy 1990, Pumpido could not replicate his remarkable performance four years earlier. He was even held accountable for their loss against Cameroon in the opener due to his failure to save Omam Biyik's header. It was one of the African team's few clear chances, which eventually led to their historic victory.
Meanwhile, Sergio Romero was not as fortunate as Pumpido in terms of the silverware. He was the key figure in their 2014 world cup campaign. The former Manchester United, Monaco and Sampdoria shot stopper kept four clean sheets, three of which were in the knockout stages.
He stole the show in the second match of the group stage against Iran and at the last four. Romero made three clinical saves in the former and blocked two penalties in the shootout versus Netherlands. Yet, he did not win the best goalkeeper award despite being nominated.
In Copa America, the current Boca Juniors man did not win a single title despite playing in three editions, 2011, 2015 and 2016. El Chiquito only brought Argentina to the final in the last two. Sadly, they both lost to the same opposition in the exact same way, penalties.
Dibu's Most Likely Rivals
Embed from Getty Images
So who deserve to be Dibu's probable contenders as the Best Argentina goalkeeper in the world cup history? Only Ubaldo Fillol and Sergio Goychochea remain. Frankly, the former Arsenal man is somewhere in the middle.
Fillol was the mainstay of Abiceleste squad in three world cup editions, from 1974 to 1982. He was in his peak in World Cup 1978. The River Plate legend might have only had two clean sheets in the competition but he contributed well with a number of vital saves in three important games, against Poland and Brasil at the second group stage plus while facing off Netherlands in the summit. No wonder that he received the best goalkeeper award.
Unfortunately, Fillol never enjoyed success in Copa America. In his glory days, Argentina were hapless in three editions, 1975, 1979 and 1983. They even already headed to the exit at the first round.
Last but not least, Sergio Goychochea might be Dibu's closest rival despite never winning a world cup title. The unlikely hero in World Cup 1990 rose to the stardom from the third-choice goalie to the best one in the tournament replacing the injured Nery Pumpido on matchday two.
The former Brest man holds the record of saving the most penalties in one world cup edition alongside Germany's Harold Schumacher and two Croatians, Daniel Subasjic plus Dominik Livakovic. In Italy 1990, he saved four, slightly higher than Dibu who only blocked three. Goychochea also made more clinical saves in the tournament, especially against USSR and Romania at the group stage, and Brasil at the second round. He actually played well too in the final before conceding to Andreas Brehme's penalty.
Emi Martinez only denied a few chances outside the shootout in Qatar 2022. Yet, he excels in critical moments rather than consistency. The clinical saves from Garang Kuol's attempt and Randall Kolo Mouani's shot in the final minutes of the games against Australia and France, respectively, prove such quality.
There is one decisive aspect which Dibu might yet be able to level Goycochea's goalkeeping attributes. El Goyco was not only known for his composure, superb reflexes, positioning but also humility on penalties. The Aston Villa man is, on the other hand, notorious for his taunts, trash talk and antics. Such mind games are set to be forbidden in the new regulation on penalties. FIFA has reportedly considered of doing so after what Martinez did in Qatar.  
In Copa America, Dibu will have to bow to El Goyco. The goalkeeper, who had previously competed in the World Cup U20 1981, had previously lifted the trophy twice in CONMEBOL's regular competition. He was even named the best player in Copa America 1993, a rare accolade which Martinez has yet achieved so far.