The Premier League has long been trying to bring an American twist to the English sport. One possibility that would benefit both fans, players and owners is a Premier League All-Star Weekend.
What is an all-Star weekend?
The All-Star Weekend is a sporting spectacle created by American sports across the pond. It consists of a weekend of fan interaction, friendly competitions, and an All-Star Game.
The All-Star Game is made up of fan-voted players, typically from each conference (East and West in the MLS) then the two players with the highest votes become captains and pick their squads.
NBA all-star weekend is a prime example
Throughout the NBA All-star Weekend different events and competitions are going on. In the NBA for instance they have the Dunk Challenge, which consists of different players across the NBA creating the most wild and outrageous dunks possible and getting scored based on these dunks. The Skills Challenge consists of a skills-based drill seeing which pre-selected teams can do it the best and the fastest. The Three Point Contest which sees players given 5 shooting spots and 5 balls to see how many they can score in 70 seconds.
NBA is considering changing the All-Star Game format back to East vs. West starting in the 2023-24 season, per @ShamsCharania pic.twitter.com/wvzrnsdlwC

— Bleacher Report (@BleacherReport) May 19, 2023
It also sees a lot of fan, celebrity and Lower League/Academy involvement including The G All-Star Game, which consists of the best players from the G League (NBA Development League). NBA Celebrity game, including ex-players and celebrities who play an NBA game against each other. The Rising Stars game; is made up of rookies, sophomores and prospects from the NBA and G League who play in a tournament against each other with old NBA legends managing each of the four teams.
Why would the Premier League benefit from this?
Fan interaction boost
The Premier League is starving for fan interaction with players and media struggling to get any sort of personality across to show fans that they are not just media-trained robots. The All-Star Weekend allows players to show some personality with the different competitions and media opportunities.
Player flair on display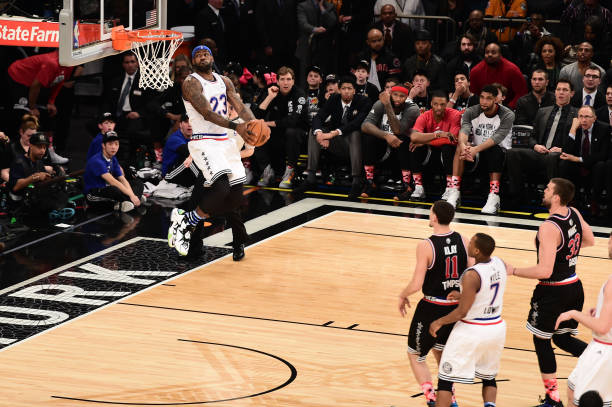 Another reason this will prove worthwhile for the players and fans time is they can show off their flair and talent which is slowly being drained out of the beautiful game we love. Just picture a game with Neymar and Ronaldinho being able to show off fancy rainbow flicks or flip flaps without the fear of losing the ball in a vital moment for their team. This would bring back an element of football which is dying in the modern game.
Ronaldinho's skills against Milan.. pic.twitter.com/Mzb8wWwx9y

— Old Days Football (@OldDaysFootball) April 6, 2023
Viewership in new markets
The content which this will bring will be massive for the channels that show Premier League games and have Premier League rights. Huge channels like Sky and TNT Sports could have unprecedented access to clubs and players in ways which could produce major viewership and social numbers unseen in football.
Introduce the world to the next global stars
It helps a lot of young talent showcase on a big stage. A lot of younger Premier League players will struggle to get minutes and build themselves into first-team players, especially at the big teams, but with the Premier League equivalent of a Rising Stars game, they would get the opportunity to play and showcase what they can do on a massive stage.
Take for instance Josh Giddey. In the Rising Stars game last year he announced himself as a playmaking talent creating a brand for himself that many people now follow and know him from that game. Mac McClung, who participated in the Dunk contest last year, earned himself a contract from the Philadelphia 76ers off the back of his performance winning the contest.
The money involved in an all-star weekend
The money produced from this will be huge with cities paying up to $6 million to host the NBA All-Star weekend. Ticket prices start at $700 just for the Rising Stars games or seeing the All-Star practice! Tickets can cost upwards of $5000 for the whole weekend. The money would not be desperately needed by any Premier League club. However, as costs, wages, and transfer fees rise, this would be welcomed by a lot of teams and channels.
Sponsors would line up
It is also a great opportunity to showcase sponsors. With the All-Star Weekend being a stop from all English top-flight games it would mean a new level of spectatorship on the weekend much akin to the Super Bowl or the Champions League final. Sponsors last year in the NBA, for a 30-second ad, paid $240,000. Imagine what the Premier League or FA could charge for a spot on the All-Star broadcast meaning more money to entice players to play in the weekend's activity: more money for teams throughout the season and more money for broadcasters to produce better content for fans.
Local businesses would benefit
This could also help a lot of local businesses if they decide to adopt the idea of hosting the weekend in a certain city or county. It would mean bringing a large audience of people and fans to this city. More people more money is being spent in turn helping out local businesses and tourist cities causing more people to revisit these cities. The Premier League could also work alongside local businesses and vendors to produce better-equipped fanzones to host the parts of the weekend helping the local brands to get more business and recognition.
The NBA All-Star Game Weekend is expected to generate $100 million in revenue meaning more money will be spent not only would this mean the common fan coming but it would include club stakeholders and celebrities attending these events and bringing their brand with them.
Monetary incentives for players
It would produce better contracts for players including bonuses. The financial side of American sports has long been debated within English football. At the same time, it is no debate that if an All-Star Game came across to the UK, it would be financially beneficial to the players with NBA players earning $100,000 per player for a win. Although this number seems relatively small in comparison to weekly wages of Premier League stars, it is a large amount to play in a "friendly" type match.
Financial benefits of hitting the American market
An All-star weekend taps into a new American audience and makes the Premier League feel like a more global brand. We have known for a long time that the Premier League is a global brand with fans from every continent flocking to Premier League games every week. Yet, one market which the Premier League has struggled to penetrate is the American market.
There has been a divide in the different nations' ideology of how the sport is played; marketed and watched but both nations have two common themes in their respective sports. The first is a spectacle both love putting on a spectacle to show to other teams and areas to brag about their one-upping of other teams.
The second is loyalty, for all the jabs and jokes put over to America and their sports loyalty has never been questioned with millions flocking to College and High School level games for hundreds of dollars each week. Both of these aspects could help produce a greater mark for the Premier League on American soil.
Conclusion
In conclusion, the Premier League has long been moving toward a more Americanized experience for football. Although some traditionalists would say that this is a bad thing, this is one aspect of American sports culture which could revolutionize the modern fan experience for the better.