Manchester United's problems continue to surface after a 3-0 thrashing to rivals Manchester City. We are 10 weeks into the 2023/24 campaign and currently, and Erik ten Hag's side sits eighth in the Premier League, and third in their Champions League group. To make matters worse, United was humiliated 3-0 at home to Newcastle on Wednesday in the EFL Cup.
Issues are happening on and off the pitch, and currently, there are no signs of improvement. Fans of the club are becoming increasingly frustrated as they witness the downfall of Manchester United—a club that was once considered the best in the world.
Let's take a look into the demeaning factors that are contributing to the poor form of Manchester United coming into the season.
Why is Manchester United struggling?
One of the many reasons contributing to Manchester United's struggles is the attack. In the Premier League this season the only player registering a goal and an assist is Marcus Rashford.
This Manchester United attack have played a combined 2,288 minutes this Premier League season.

There's only been one goal and one assist from Marcus Rashford 😳 pic.twitter.com/cC3311v4tN

— ESPN UK (@ESPNUK) October 30, 2023
Last season, Rashford had a spectacular run of form. He ended the season with an impressive 30 goals and 11 assists in all competitions (17 goals, and 5 assists in the Premier League alone).
Rashford's significant drop in form is a huge worry, with him only scoring one goal in the last 13 games he has participated in. Summer signing Rasmus Højlund is struggling to make an impact in the Premier League despite scoring three in three matches in the Champions League.
Anthony, Martial, and Garnarcho have also failed to influence the results. Featuring most games coming in as substitutes. Jadon Sancho is currently frozen out of the squad due to disciplinary issues between himself and Erik ten Hag. He still has the same amount of goal contributions to everyone in the attack bar Rashford, which says a lot.
Should Bruno Fernandes be captain of Manchester United?
Former Manchester United midfielder and captain Roy Keane had a lot to say on this topic. After the defeat to Manchester City, he was not happy with Bruno Fernandes' body language throughout.
Saying it was the "opposite to what you want in a captain" and that if it was his decision he would "take the captaincy off him. I know it's a big decision but Fernandes is not captain material."
That said, the captain of a football club like Manchester United should lead by example. If one compares the previous leaders like Eric Cantona, Nemanja Vidić, and Wayne Rooney. There is definitely a clear difference in how things should be done compared to the present.
A lot of fans agree with what has been said. Many going to social media to express that Casemiro or Raphaël Varane should be next in line.
Is Erik ten Hag a problem at Manchester United?
Erik ten Hag replaced Ralf Rangnick as manager in May 2022. During his time at the club, he has finished third in the Premier League and won the EFL Cup. Currently, there is a divide within the fanbase on whether he should be sacked or not.
Manchester United does not have a clear style of play or starting 11 under ten Hag. Additionally, tactically he is making very questionable decisions that have frustrated many.
The latest being that Varane was left on the bench to back up Jonny Evans and Harry Maguire to face prolific goalscorer Erling Haaland. Victor Lindelöf also started at left-back over Tottenham Hotspur loanee Sergio Reguilón. Lindelöf played just 3 games in the position his whole career before that, and he had to face technical winger Phil Foden.
His recruitment has also been highlighted as controversial. Erik ten Hag has spent a total of around £400 million throughout his time at the club. The most expensive signings are:
Antony – £85.4 million
Rasmus Højlund – £72 million
Casemiro – £70 million
Mason Mount – £60 million
Lisandro Martinez – £56.7 million
Andre Onana – £47.2 million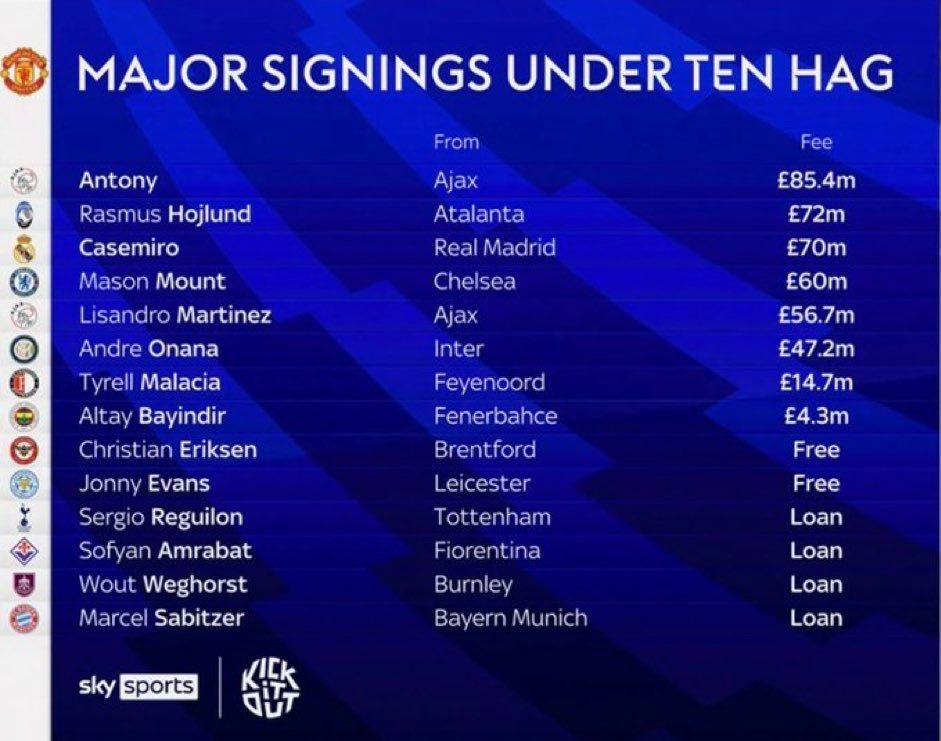 New signings Mount and Onana have not had the start they would have hoped for. Mount has been ridiculed with injuries and is struggling to find his feet at his new Premier League club. He has currently played a total of 8 games in all competitions and only assisted once.
Onana was bought into the side to instill a different way of playing football. He is renowned for being a modern-day goalkeeper from his time at Inter and Ajax. Since reuniting with Erik ten Hag he has conceded 16 in 13 games.
Manchester United's injury problems
This season has been a nightmare for Manchester United, a contributing factor is the injuries they have had to deal with. The likes of Lisandro Martinez, Luke Shaw, Aaron Wan-Bissaka, Tyrell Malacia, Casemiro, and Amad Diallo have had reported issues.
It is an issue that every team faces, and it has to be dealt with. Manchester United is struggling to do that. Squad depth is important and to avoid a huge drop-off when players are unavailable to play, good backups need to be ready. You could consider it to be bad luck and also a lack of a contingency from the club.
Are the Glazers a contributing factor?
The Glazers are an ongoing problem at Manchester United. A lot of fans blame them for the majority of issues at the club. Hopes were high when it was reported that Sheikh Jassim was interested in purchasing the club. However, he later withdrew his offer after not agreeing a price.
On a positive note, it is said that Sir Jim Ratcliffe is set to pay £1.3bn for a 25 percent stake in the club according to Sky Sports.
Both on and off the pitch the Glazers are definitely a contribution. This is because the feeling around the club is negative. Manchester United is no longer United. Old Trafford is no longer respected as it once was, and it is in desperate need of a revamp. Everything is neglected, and that all goes down to the ownership.
Can Manchester United turn this season around?
Manchester United has the ability to have a good run of form with the games coming up. In all competitions, the fixtures are Fulham (A), Copenhagen (A, Champions League), Luton Town (H) and Everton (A).
After the tough EFL Cup game against Manchester City, there is potential to go on a good run for the side. Fulham, Luton, and Everton are all fighting in a relegation battle. This run of games could be exactly what Manchester United needs to gain some confidence after a poor start to the season.
Both on and off the pitch, there are problems circulating around the side that need to be addressed. Manchester United needs to look to clubs who have had similar issues and how they faced them in the past. Arsenal and Tottenham are prime examples of this. The whole club needs a rebuild from the top to bottom to become the side everyone once feared.