UEFA club competition reforms adds new battle
As we head into the 2023/24 European club competition campaign, there are many storylines to talk about. From understanding the new Champions League format to predicting who will win the three club competition trophies, there is always something to get people talking.
Now more than ever, UEFA's five-year country coefficient ranking takes on more significance. On many occasions, just a difference of one or two spots can have very different meanings for certain countries.
Having already taken a look at the battle for 50th place, as well as the one for a top 33/top 38 spot, we now bring attention to the race for 22nd. Croatia, Sweden, Poland, Cyprus, Romania, Hungary and Bulgaria will battle it out for the final three spots places in the top 22. Finishing in the top 22 will award a country's champion a spot in the Champions League second qualifying round, making them one round away from guaranteed group stage football. This year's ranking will be the basis for the 2025/26 European places.
This article will take a look at the 28 teams from the seven previously mentioned countries as they do their part to push their country into the top 22. Recent showings over the last two campaigns will also be discussed. Finally, an expert look on which three national associations are most likely to end up finishing 22nd or better at the end of the season and why.
The countries involved
Countries starting the season in the top 23
Croatia
Constantly underperforming, Croatia has gone from being in the race for a top 15 spot last season, to now trying to stay in the top 22. The Balkan nation is the paragon of requiring multiple clubs to perform in Europe consistently, rather than just one. They have won 9.375 points over the last two years, which is 24th in that time.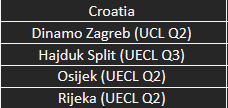 As per usual, the same four clubs will participate in Europe for Croatia. Dinamo Zagreb continued their utter domination of the league title, setting them up for a place in the Champions League second qualifying round. Domestic cup winners Hajduk Split enters the Europa Conference League third qualifying round, while Osijek and Rijeka both start the UECL a round sooner.
The potential has always been there for Croatia to do better than what they have been. It is now a matter of whether Dinamo Zagreb will get some help. None of the three UECL teams are seeded throughout qualifying, making it more difficult for them to play group stage football. Not a promising situation already for Croatia.
Sweden
It was a very successful year for Sweden in Europe this past season. Djurgården topped their Conference League section, bringing in a considerable amount of points for the Nordic nation. In the two seasons since the Conference League's existence, Sweden has collected 11.375 points, the 19th best country in that regard.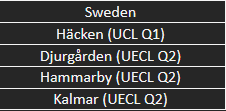 Häcken will fly the Swedish flag in UCL Q1 after capturing the domestic double. Djurgården will be back in the Conference League starting in Q2, and will be joined by Hammarby and Kalmar.
Sweden may struggle to earn points in Europe this term. Much will depend on what Häcken and Djurgården do as they are in better position to contribute more. Still, it may not be enough. With the sheer competition around them, Sweden could see their 21st spot dissipate.
Poland
After a record-breaking 2022/23 season, spearheaded by Lech Poznań's Conference League performances, Poland is in an excellent position going into 2023/24. Although they start the season 23rd in the five-year ranking, the 12.375 points earned in the last two years betters their competition. They are 17th in the two-year ranking.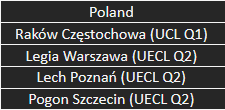 After back-to-back UECL playoff round appearances, Raków Częstochowa will have their maiden crack at UCL qualifying. They will give any team they face a very difficult time. Legia Warsaw returns to Europe, starting in UECL Q2. Them, alongside Lech, could really bolster the Polish coefficient. Pogon Szczecin completes the quartet, also starting in UECL Q2.
Poland looks set for another amazing year. Raków certainly has what it takes to get past the first round of Champions League qualifying, practically assuring themself a group stage berth. Lech and Legia could join them if they receive kind draws. All-in-all, Poland looks to be in great shape to cause even more damage.
Countries starting below the top 22
Cyprus
Like Croatia, it was not long ago that Cyprus was in the midst of a battle for a top 15 place. Now, they commence the new term in 24th, looking above them in hopes of playing catchup. They have 9.225 points earned in the last two seasons, which is 25th.
Aris Limassol continues to go from strength to strength. After capturing the league title for the first time in club history, they will have Champions League football to enjoy. Once more, Omonoia Nicosia won the cup to earn a European spot. They join fellow regulars APOEL and AEK Larnaca in UECL Q2.
Cyprus has the potential of a solid year. Aris is one round away from assuring group stage football for the first time. Meanwhile, all three of Omonoia, APOEL and AEK Larnaca can cause problems in UECL qualifying although none of them have a high club coefficient. If those three play their cards right, it will be an excellent year for Cyprus in Europe.
Romania
An underwhelming 2021/22 was followed by a much better 2022/23 season for Romania. It has been the highlight of their football over the last several years. They are 28th over the last two years with 8.500 points won.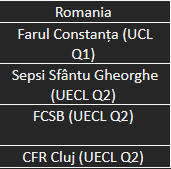 Farul Constanța held their nerve to win their first Romanian title. Their reward for that is a spot in UCL Q1. Sepsi's cup success saw them return to the UECL, where they are joined by Romania's two best teams by five-year club coefficient: FCSB and CFR Cluj. Both made the Conference League group stage last fall, with the latter wreaking havoc. They will now have the chance to do it all over again.
Romania has all the tools to assure themselves a top 22 finish. They have two regulars, one who will be seeded throughout qualifying. That puts them in a wonderful position to make some headway and snag a top 22 place.
Hungary
Hungary is one of those countries where only one team contributes to their coefficient. Most of their 8.625 points achieved in the last two years (27th in that respect) has come from Ferencváros, and that will likely continue.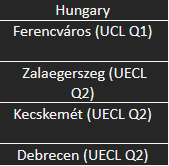 Fradi won the Hungarian title with little fight as they finished atop their Europa League section back in the fall. They will be one of the favourites to make the Champions League group stage via the qualifiers. Zalaegerszeg, Kecskemét and Debrecen round out the Hungarian representatives, all starting in UECL Q2. Debrecen is the most experienced of the lot, having played in the UCL group stage almost 15 years ago.
The only realistic way for Hungary to properly attack for a top 22 finish is if Fradi gets some help. There is little optimism that they will get much help, seeing that the other three clubs will all be unseeded in the UECL Q2 draw. If they all lose in that round, Hungary will be done for.
Bulgaria
The last country on this list is fairly similar to Hungary. Bulgaria has seen the overwhelming majority of their success come from Ludogorets. With 7.875 points won in the last two years, 30th in that time, Bulgaria has not been able to move up the ranking due to the lack of help Ludogorets receives.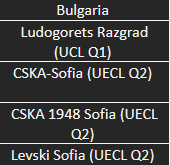 Ludo will enjoy Champions League qualifying for the 11th year in a row. They claimed the league title on the final day, which saw them complete the double. CSKA-Sofia, who lost out on the title, will have to settle again for Conference League football. They will be joined by CSKA 1948 Sofia (different club) and Levski Sofia at the same stage of the same competition.
Bulgaria needs a team effort from their four clubs if they are to stand any chance of sneaking into the top 22. While CSKA-Sofia has contributed a little bit, at this level it is not enough. A lot of work is required from the UECL teams to make a top 22 place a reality.
Season predictions: who will take a top 22 place?
Before I predict who will end up where, it must be noted that Russia currently sits 22nd in the five-year country ranking. However, due to their continued ban from playing in Europe, they will not be able to earn any more points. It remains to be seen whether UEFA will assign them a certain number of points as they did last season.
Now, as for who will finish where in this battle, this all depends on which countries will receive help from multiple clubs. Several names on this list is just a one-club wonder. Yet, it is likely that will seldom be enough.
Here is my ranking of the countries involved in this battle (excluding Russia):
Poland
Croatia
Cyprus


---

Sweden
Romania
Bulgaria
Hungary
My thought process here is quite simple: Poland and Cyprus have the best group of clubs of the lot here. Those two countries are much more likely to collect more points, and as a result, they are my primary favourites to finish in the top 22.
The only reason Croatia is still standing in the top 22 is because Sweden's European representatives look rather weak overall, so I cannot see them maintaining the same success from 2022/23. That and the fact that Dinamo Zagreb will pull them over the line as per usual.
Romania will have a decent campaign, but I just cannot see them collecting enough points to finish ahead of Sweden and Cyprus. CFR Cluj barely qualified for Europe, and if they continue to look as disastrous as they did in the final quarter of the 2022/23 season, they will not make the UECL group stage. That alone will derail Romania I feel.
As for Hungary and Bulgaria, they both have something of a mountain to climb, particularly the latter. Hungary just does not have the clubs to make a serious push. As for Bulgaria, while I can see Ludogorets pushing their country, they cannot do so alone. That will be the difference for me.
The matches throughout the second half of 2023 will determine where these countries will land. Much is on the line, and as always, every match in Europe matters. It could very well be one or two matches that decides where each country falls in the UEFA five-year country ranking.