Several countries pushing for a top 38 finish, some even higher
With a new season of UEFA club competition action to start next week, there will be plenty of storylines going into the new season. While many will focus on who will win the Champions League, or how trying to understand how the new format will go, another key aspect will be UEFA's five-year country ranking.
This ranking has increasing significance year-on-year, especially with an eye on the reforms to the UEFA club competitions starting in 2024/25. Each match in continental play matter as coefficient points – both for club and country – are on the line.
This article will take a dive into the race for a spot in the top 33, top 34 and top 38 in the five-year ranking. Finishing at least 33rd allows a country to send a team to the Europa League qualifiers in 2025/26, something only the top 15 countries are allowed to do as things stand. If Liechtenstein finishes in top 33, then 34th will also be important, as it would mean two clubs would start in the second qualifying round of the Europa Conference League. Finally, places 35 to 38 will see a country's domestic cup winner start in the second round of UECL qualifying.
A breakdown of all 13 countries involved in these races, their teams in Europe, and recent performances from each countries' clubs in Europe. Finally, an expert look on which three national associations are most likely to end up in the top 33/top 38 and why.
To read the battle for a top 50 place, you can find that here.
The countries involved
Countries starting 31st to 34th: Liechtenstein, Ireland, Finland, Slovenia
The first four countries in this race all start the 2023/24 five-year country ranking in places 31 to 34. While top 33 is most important, 34th could become of note depending on Liechtenstein's finish.
Starting with the tiny landlocked country, Vaduz's stunning run to the Conference League group stage turned head. It also saw Liechtenstein pick up 6.500 points. That performance starts the country in 31st spot and in pole position to finish at least 33rd. Vaduz will once again partake in the UECL, starting in Q1.

Ireland has also seen considerable success in recent years. Both Dundalk and Shamrock Rovers have made the group stages in Europe within the last three years. The latter held their own in their Conference League section despite a last place finish.
Ireland has picked up 6.250 points in the last two years, good for 6.250 points. Now, Shamrock Rovers and Dundalk will look to build upon recent performances in Europe. Joined by Derry City and St. Patick's Athletic, and Ireland could have another solid year in Europe.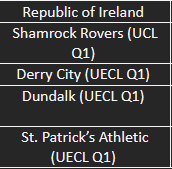 Finland has had great success in Europe since the introduction of the Conference League. Back-to-back group stage appearances from HJK plus a run to the UECL's playoff round by KuPS have in part seen Finland pick up 6.375 points in the last two seasons. That is 32nd best. With HJK (starting in Champions League first qualifying round) and KuPS (UECL Q2) playing in Europe once more, they could once again be protagonists for the country alongside Honka and Haka (both start in UECL Q1).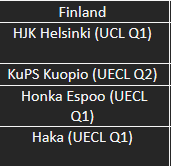 Slovenia has seen quite a regression in recent years. Just 5.125 points earned over the last two terms, which has them 36th. The familiar names of Olimpija Ljubljana, Maribor and Domžale will take part in the first weeks of qualifying. Celje will join the party two weeks later. A solid lineup of clubs could lead to a promising year.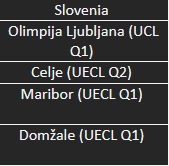 Countries starting 35th to 38th: Latvia, Kosovo, Armenia, Kazakhstan
The chase pack for the top 33, Latvia, Kosovo, Armenia and Kazakhstan start in places 35th to 38th for the new season. As things stand, they would all send their cup winner to UECL Q2 in the 2025/26 campaign. Yet, they all want more, as 33rd is still within their grasp. They must also be careful not to end up being caught by the countries below them.
Latvia has a strong contingent in Europe once more. After reaching the UECL group stage last fall, Rigas FS is back trying to make more noise. They are joined by Riga FC and Valmiera – both becoming regulars in Europe – as well as debutants Auda. Here is a country whose clubs could be some to watch. Their 5.375 points earned over the last two years is 34th in that time period.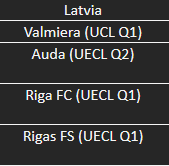 Kosovo has seen several clubs put in some excellent performances in Europe. Ballkani played in the group stage of the Conference League last fall, holding their own. Drita's regular continental outings have also done them quite well. Both are joined by Gjilani and Dukagjini, who is making their continental bow. The four will have their work cut out for them to build upon Kosovo's 5.208 points from the last two seasons, 35th best in that regard.
In each of the two seasons of the Conference League, Armenia has had a team in the group stage. Alashkert then Pyunik were the two sides to make that stage of the competition, and both will start in Q1 this summer along with Ararat Armenia. That makes for a promising year from them. Urartu will play in the Champions League, also commencing in Q1. Although they are 40th in the last two years (4.250), do not be misled: this is a country that could have a very successful 2023/24.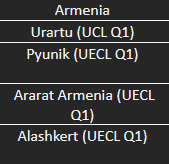 Like Slovenia, Kazakhstan has not had good European showings of late. They have earned 4.000 points across the 2021/22 and 2022/23 seasons, good for 42nd. Regulars Astana will be joined by Ordabasy, Aktobe and Tobol in Europe. This could really be a season of struggle for Kazakhstan, especially with Astana likely needing to do most of the work.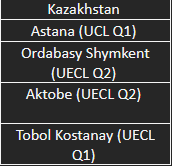 Outsiders for 38th spot: Northern Ireland, Bosnia and Herzegovina, Faroe Islands, Lithuania, Estonia

It will be fascinating to see which of Northern Ireland, Bosnia and Herzegovina, Faroe Islands, Lithuania and Estonia can somehow sneak into the top 38. All of them start on the outside looking in, but none of them can be forgotten about in this race.
Both Lithuania and Estonia have had a team in the UECL group stage (Žalgiris Vilnius and Flora Tallinn respectively). Meanwhile the other three countries have all seen a team go one round away from group stage football within the last three years. Linfield, Zrinjski, and KÍ Klaksvík have all graced the playoff round since 2020/21.
Northern Ireland starts 0.282 points back of 38th ranked Kazakhstan in the five-year ranking. That lead could evaporate by the end of the first week, proving just how close this battle is. The other four countries are at most 1.000 behind of Kazakhstan to start this new campaign.
Some sides to watch out from these five countries include the ones already mentioned, plus Larne, B36 Tórshavn and FK Sarajevo. The first two have pulled off some interesting upsets over the last couple of seasons, while FK Sarajevo will be look to show they still have it after missing out on Europe in 2022/23.
Season predictions: who will end up where?
The most intriguing thing about this race is that there are three different tiers among these 13 countries: a group pretty much assured top 38 but will push for top 33; a group that is chasing a top 33 place but is not even certain of 38th; as well as a group trying to sneak into the top 38.
So, who will finish 31st to 33rd, 34th, and 35th to 38th? The 13 teams are ranked below in order of how I see them finishing from 31st to 43rd.
Slovenia
Liechtenstein
Finland


---

Ireland


---

Latvia
Armenia
Northern Ireland
Kosovo


---

Kazakhstan
Lithuania
Bosnia and Herzegovina
Faroe Islands
Estonia
Making a ranking for this group of countries is quite a challenge. For the majority of them, there is a solid argument that could be made as to why they will finish at least 38th.
Allow me to start with the first three: Slovenia, Liechtenstein and Finland. I think after a couple of disappointing years, the Slovenian clubs will finally wake up. Olimpija Ljubljana should make a group stage from UCL qualifying, especially since they are seeded in Q1. Vaduz will likely make a deep run in UECL qualifying, losing in either Q3 or the playoff round. That will do the trick for Liechtenstein. As for Finland, I expect HJK especially, alongside KuPS, to do enough to see them hold on to 33rd.
As for 34th, I think Ireland will just pip Latvia for it. My reasoning is simple: I have more faith in the former to have a club in the group stage. Shamrock Rovers is seeded in UCL Q1, and should get past that round. Valmiera will likely lose in that same round, and there is no guarantee they will get through two or three rounds in UECL. Although Latvia has a stronger contingent in UECL qualifying, I just do not think that will be enough.
As for 36th to 38th (Latvia will end up 35th I think), I am liking Armenia, Northern Ireland and Kosovo. All around, Armenia should be able to comfortably finish 36th at least, given their depth of teams in UECL Q1. I can sense that Northern Ireland will put up another solid showing in Europe, thanks in large part to Larne and Linfield. If the draws treat them well, there is no reason not to believe that one of those teams will end up in the playoff round of the Conference League minimum. As for Kosovo, Ballkani and Drita will surely do the heavy lifting once more. That should be enough for 38th.
Kazakhstan's Conference League teams are just too weak to really do anything meaningful, plus I am not convinced Astana will do enough either. That is why I think they will be passed by both Northern Ireland and Kosovo. Lithuania, Faroe Islands and Estonia all have too much work cut out for them, though I could see the first two countries mentioned putting in a serious fight.
As for Bosnia, much will depend on how Zrinjski does. Although the Mostar-based club is seeded in UCL Q1, there is no guarantee they will push through that round. That will likely prove costly.
The first qualifying round for both the Champions League and Europa Conference League will get underway the week of 9 July. That will see this fascinating battle begin for the 13 countries involved. Every game, every point will matter. Time will tell who will do enough to achieve their season's goal.