Barcelona Vs Juventus Preview
Where To Watch it LIve?
Like Our Page Below As We Will be Streaming The MAtch Live On It 🙂

Barcelona started the 2017-2018 season in mixed tone. Despite perfect record in La Liga after 3 matches, we must not forget how much badly Barca have played in the 2 matches against Real Madrid in the Spanish Super Cup.
Barca vs Real Madrid is a terrible performance in all aspects, defensively, offensively… Even the all-time-good possession figure ran away from Los Blaugrana at that match. So with the recent 3 victories & 3 clean-sheets.
I can only say that Barcelona is a broken team being repaired. People can see things get better with time: First, the defense, which is Valverde's contribution with the high-pressing and the occasional double pivot in the midfield. Second, the attack with the return of Luis Suarez & the new signing – Ousmane Dembele.
Today's Barca is far from perfect, we can expect improvement in coming weeks with a lot of games to be played, but we must accept that tonight, Juventus will be the more completed team. Valverde as an experienced coach, must and will think of caution before revenge.
The Italian champions' attack is lethal. They can score a lot of goals with just a few chances, opponents can be confused by the traditional passive attitude of the Italian team and pay for thinking too much about how to break Juventus's defense.
Barcelona Vs Juventus Preview
POSSIBLE LINE-UP Barcelona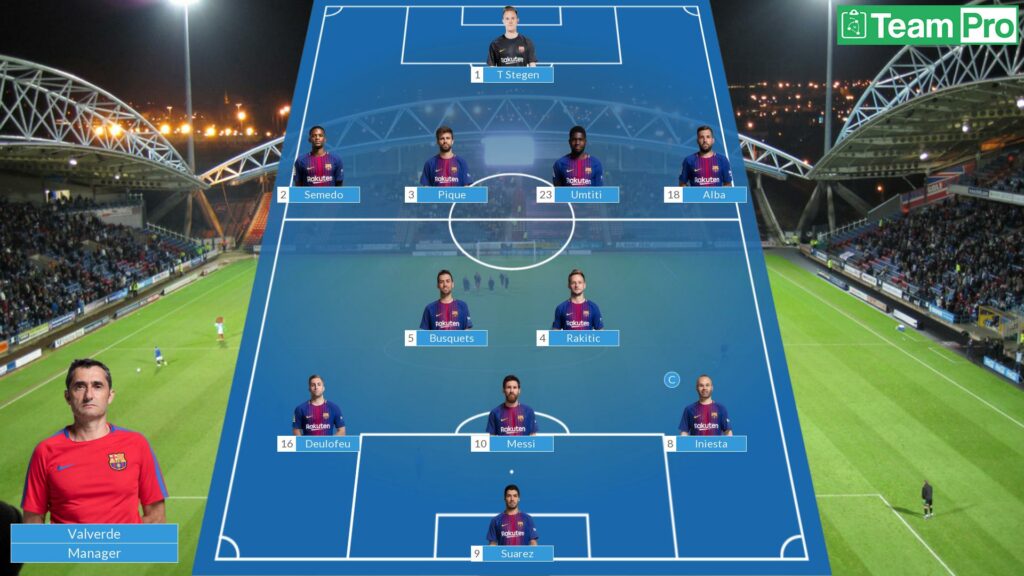 HIGUAIN
DOUGLAS COSTA – PJANIC – DYBALA
STURARO – MATUIDI
ALEX SANDRO – BARZAGLI – RUGANI – DE SIGLIO
BUFFON
(4231)
My prediction:
Teams facing Juventus won't have as many chances as they usually have against other teams. So I think that this will be the case for Barca tonight. So the key is how many chances Juventus will have.
If the game is equal, Juventus will be more likely to win. If Barca can control the midfield, keep the possession and limit Juventus's chances of threatening Stegen, they can win with a narrow score.
Barcelona has forgotten how to control the game since the day Pep left, so I believe Juventus will have a good result.