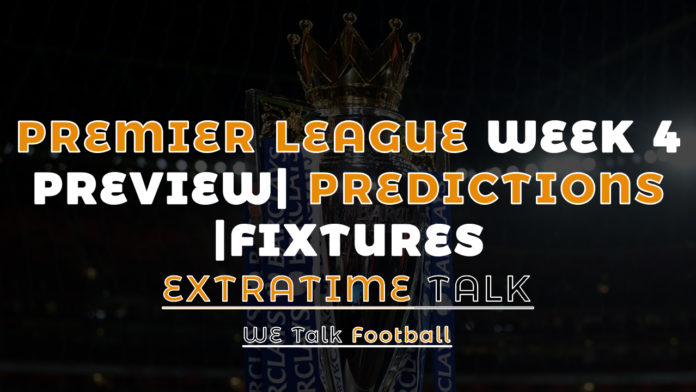 Premier League Game-week 4 Preview
HELL YEAH!!!! The premier league is back and the seemingly infinite International break is over. It may have been only having been 12 days long but have I missed reading about the upcoming matches and the tactical analysis of what is Mourinho's un-parked bus this season.
Manchester City Vs Liverpool
Saturday's early kick off gets us back under way with a flier in terms of attacking football with no defensive holdbacks. A free flowing, end to end possibly ridiculous numbers of goals match of the week contestant MANCHESTER CITY vs. LIVERPOOL.
Both teams managed by attack minded coaches, will not hold back from trying to win the game and there should definitely be many goals in this one. If anything that could bring the game down it will be tiredness from the internationals of the South American contingent in both sides.
However in an act, true to the real spirit of the sport, the two clubs came together and split the fare of a private jet to go and get their players back home quickly.
Despite Pep bringing in high-quality defensive options over the summer, City have not looked the most solid under pressure and since nearly the entire backline was out on international duty no further work could have been done with them, hence despite Liverpool's own shaky defense, I expect them to outscore the citizens.
ETT Verdict: City 1-3 Liverpool
Arsenal vs. Bournemouth
Despite eventually losing to Man City, Bournemouth started the game exceedingly well. They may yet not be very sharp offensively but they would do well to hold Arsenal to a draw, making this all the more likely are the reports of unhappiness and discontent in the gunner camp.
However, since this match is at the Emirates and not at the Vitality maybe just maybe Arsenal edge it with someone coming off the bench to score and all the home fans will start shouting Wenger In. Just Kidding, of course, the away fans will be shouting it too for most of the game.
ETT Verdict: Arsenal 1-0 Bournemouth
Everton vs. Spurs:
lively or dull. It pains me to say but expects this to be a drawn out and excruciatingly painful game to watch. With Spurs failing to fire on all cylinders, and Everton stars needing time to gel, this game could take on a very slow pace as both sides look to grind out a victory and build confidence.
ETT Verdict: Everton 0-2 Spurs
Leicester City vs. Chelsea
The surprise ex-champions of England are nowhere near the side they were a couple of years ago. With many first team stars having left (Drinkwater and Kante) or still wanting to and singing about not managing it (Mahrez and Gray).
Leicester may struggle to compete with what seems to be an even stronger Chelsea side than last season. Defensively solid and the man Alvaro Morata on fire, even scoring three goals in the international break, Chelsea should see this match out comfortably.
Despite don't expect Leicester to not throw some surprise punches, I mean they did sucker punch the whole world once.
ETT Verdict: Leicester 0-2 Chelsea
United vs. Stoke
Seriously, high flying United vs. Stoke City, anyone could predict this, right right. Wait you are telling me that Stoke City beat Arsenal, Held West Brom, and only just lost out to Everton by a goal……
NAH, while all matches in the premier league are tough even I can't make this match sound tougher than it should be for Man United. Expect Man U to win this by another relatively comfortable margin, and having to hear your red friends screaming about how the old United is back.
If nothing else take solace in the fact that your United players in FPL will get you some points if you are not a United fan that is.
ETT Verdict: United 3-0 Stoke
The rest of the premier league weekend matches may not be big matches but here is our expected verdict in all of them:
ETT Verdict:
Brighton 0-1 West Brom:
Strong defensive strategies are the norm for this one.
Southampton 2-1 Watford: 
The struggle continues for both sides which have looked defensively decent and offensively average.
Burnley 1-1 Crystal Palace: 
Frank De Boar finally gets up and running on the board, despite Burnley looking good in the game against Spurs, expect them to be more open in this game and the pace of Crystal Palace to exploit that.
Swansea 2-0 Newcastle
Wilfred Bony and Renato Sanchez are quality additions to the Swansea side whereas Newcastle is flattering to deceive.
West Ham 1-1 Huddersfield
The new boys may just come to a halt finally. Despite their play so off, I just can't see the man Chicharito not manage to squeeze one in past Loss.
For More Updates From Premier League, Follow Us On Facebook