The football season is well and truly off the mark in style with the league matches in full flow across Europe. We have witnessed some exciting games in the top European leagues and It's only the beginning. The season just infused in it a new dimension with the addition of another prestigious football competition which is an instant fan favorite, the UEFA Champions League.
The Draw took place on Thursday with the formation of some exciting groups and some mouth-watering clashes. The transfer window has been wild this season and with all teams strengthening their squads, it will be a fascinating season. A thorough discussion of all the groups is the need of the hour so without further ado let's jump into it.
The Champions League Groups
The groups have been allocated to all the teams based upon the pots being the primary criteria along with some other selection tools. Groups are in pecking order starting from A to H. Let's get into it.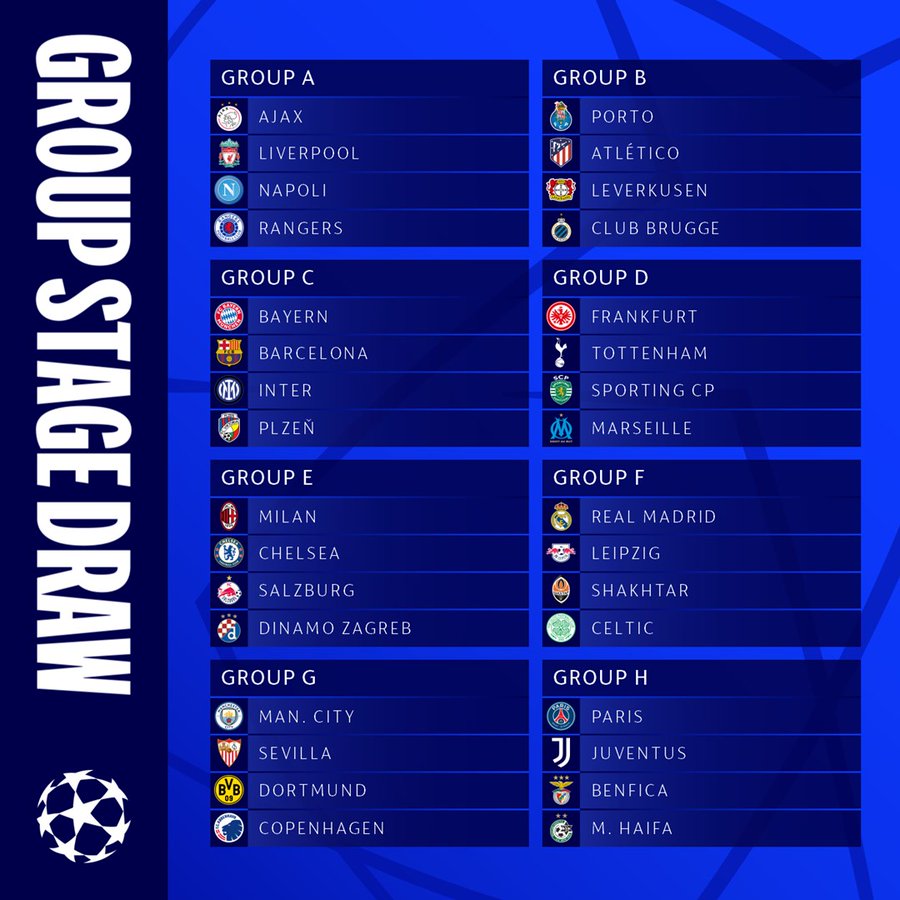 Group A:
Group A has some exciting clashes coming our way with the likes of Ajax, Liverpool, Napoli, and Rangers. Liverpool is having some issues with the departure of Sadio Mané, an unsettled Darwin Núñez, and an injury to Thiago. In their first three league games, they acquired 2 points but bounced back by thrashing Bournemouth 9-0. Liverpool is a team that always has that fighting spirit.
Napoli has had a good start to the Serie A campaign but they somehow struggle in the Champions League. Ajax is a bit wounded by the departure of some key players. Rangers have looked solid by beating PSV to qualify for the Champions League proper. 
Who has the best chance?
Liverpool and Napoli have the best chance but never count out Ajax and especially Rangers.
Group B:
Bayer Leverkusen's poor run of form this season will come back to haunt them. Atlético Madrid has had a mixed start to their LaLiga campaign but they are always a good team in the group stages. Porto always shows character and has had a perfect start to their season. Club Brugge has the talent and resources with Jutgla fighting but a Europa League spot can be considered a success as well.
Who will have the last laugh?
Atlético and Porto will somehow scamper through.
Group C:
A new-look Barcelona will be looking for revenge. Bayern is always a dangerous side. Inter are slowly getting their mojo back with the return of Romelu Lukaku.
This is undoubtedly the group of death in the Champions League this season. I do believe Barça will be a team to beat in this group and will challenge both Bayern and Inter. With the new signings and Bayern's, Lewandowski things are looking good for Barcelona. Plzen has to make sure they don't get ahead of the curve.
Predictions:
Barcelona and Bayern will go through.
Group D:
Tottenham is making a return to the Champions League this season with Antonio Conte's team firing in the Premier League. Antonio Conte's record in the UCL is not one to be happy about but he has some great players at his disposal.
Europa League winners Eintracht Frankfurt will be looking forward to the same fortunes. Sporting CP and Marseille add a new dimension to this group.
Who is Going Through?
Tough one with all teams equally balanced but Tottenham and OM are the ones to make it.
Group E:
Group E has infused in it a great matchup in the form of AC Milan and Chelsea. AC Milan has risen from the ashes after winning the Serie A last season which can be considered a landmark.
Chelsea won the UCL in Tuchel's first season in charge but has some issues due to player departures and forwards not scoring. Salzburg is a team to watch. Dinamo Zagreb just made the group via qualifying and will be looking to play positive football.
Who will have the last laugh?
Chelsea and Milan will go through but Salzburg can spring a surprise in my opinion.
Group F:
Group F sees the defending champions Real Madrid up against Shakhtar, Celtic, and Leipzig. A question must arise here why Shakhtar and Real are in the same group always or is it just my intuition (just kidding)?
Real Madrid has got a relatively easy group after a difficult route in last year's knockout stages. Real Madrid has an excellent record in CL and will look to continue the good form. Leipzig will be a challenging task. I have a feeling that Celtic can be a surprise package. Shakhtar is looking a bit weak because of departures
Obvious? 
Real Madrid and Leipzig to go through.
Group G:
Premier League champions and Pep's Blue Army will once again walk into the competition as favorites but will they finally cross the line in the big and nerve-wracking moments? Sevilla and Dortmund will look to stop City's dominance. Sevilla are looking extremely out of shape with the departure of their best players. Dortmund and Copenhagen might spring a surprise but it will be as simple as it gets.
Predictions:
City and Dortmund will go through.
Group H:
Last but not least is another exciting group to finish the proceedings. Juventus, PSG, Benfica, and Maccabi Haifa will go head-to-head to battle it out. Homecoming for Di Maria, Messi in Turin, and a possible test for a dangerous PSG in Ligue 1 this season.
Benfica has looked solid winning all games in the league. Maccabi Haifa returns to the group stage after more than a decade out. Benfica can challenge but I don't see big upsets happening in this group.
PSG Favorite?
Juventus and PSG will go through and will be in the round of 16.