One of the most intense coefficient battles to happen this season
As the European club competitions enter the 2023/24 campaign, attention will be brought to several themes. The last season of group stage play before a complete reform is one major talking point. New teams in each competition will also be something to look out for.
Perhaps one of the lesser known themes regarding UEFA club competitions is regarding UEFA's five-year country coefficient. More importance is placed on this than usual, given the previously mentioned reforms starting next season. Each match in continental play matters as coefficient points – both for club and country – are on the line.
After talking about the battle for 50th place, the battle for spots 31 through 38, and the race for a top 22 spot, this article focuses on what will transpire in the top 15 battle. Two spots are available here, with six countries fighting for that all-important top 15 spot.
Fourteenth place in the ranking will give that country's domestic champion a spot in the Champions League playoff round, assuring Europa League football. As for 15th place, that country's cup winner will enter the Europa League third qualifying round, have two spots in Champions League qualifying, and five European teams overall. This season's five-year ranking will be the basis for the 2025/26 access list, determining which countries get how many spots in Europe.
The six countries – including the 32 teams – will be touched upon here. A look on the last two campaigns for each country will also be mentioned. Lastly, an expert view on who will claim spots 14 and 15 at season's end.
The countries involved
Countries starting in 14th and 15th place
Ukraine
For many years, Ukraine was a regular top 10 nation. They regularly had two teams in the Champions League group stage per year, and have even had a UEFA Cup winner and Europa League finalist over the last 15 years. Now, they sit 14th in the five-year country ranking, and are not guaranteed to be in the top 15 come the end of the campaign. As for their last two years, Ukraine has collected 9.900 points, which is 22nd in that time.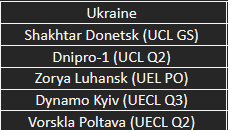 As always, Shakhtar Donetsk will be Ukraine's representative in the Champions League group stage as the domestic champion. Dnipro-1 will look to join them, starting in the second qualifying round. Zorya Luhansk enters the Europa League at the playoff round, assuring them Europa Conference League football. Dynamo Kyiv and Vorskla Poltava will start in the third and second qualifying round of the Conference League, respectively.
For Ukraine to maintain a top 15 spot, a minimum of four teams in the group stage would be key. That is not out of the realms of possibility. With Dynamo Kyiv seeded throughout UECL qualifying, there is a good chance of that happening. At least two teams in the knockout rounds should be enough for Ukraine to stay in the top 15. Will this happen? Time will tell, but certainly not too unthinkable.
Norway
Here is a country that is on the line. The highest ranked summer league, Norwegian football is on the rise. They were one more result from a top 15 finish in 2022/23. Having barely lost out then, they will want to go one better this season. Fittingly, they start the season in 15th, and is also their rank over the last two seasons (13.375 points).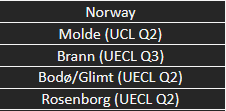 After running away with the Norwegian title in 2022, Molde takes the Champions League spot, starting in Q2. Brann topped Lillestrøm in the Norwegian Cup final, giving them a place in the UECL at the third qualifying. Rounding out Norway's representatives are Bodø/Glimt and Rosenborg, who both will enter UECL Q2.
Rosenborg's return to Europe after a season's absence has to be considered a boost for Norway. At least two teams in the group stage, preferably three, will make Norway competitive in this battle. Brann, Glimt and Rosenborg will have it difficult in UECL qualifying though, and that will make or break the season.
Countries starting the season below 15th
Denmark
Norway's Nordic brethren Denmark breathes down their neck in this race. The Danes enter the season in 16th place in the five-year ranking, 0.675 points behind Norway. One piece of hope from a Danish perspective comes from the two-year ranking, where none of their competitors in the battle for 15th has won more points than Denmark's 13.700 (13th in that ranking).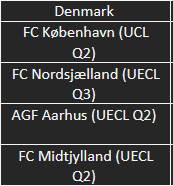 Despite a slow start to the 2022/23 campaign domestically, FC København ended up completing the league and cup double. They look to return to the UCL group stage, starting in the second round of qualifying. Nordsjælland had to settle for second in the league, leaving them with a spot in the penultimate round of UECL qualifying. AGF Aarhus and Midtjylland both start in Q2 of the Conference League, needing to survive six games to make the group stage draw.
The key to Denmark's success will come through København and Midtjylland, who together can sneak their country into the top 15. Both AGF and Nordsjælland will likely falter in qualifying, putting extra pressure on FCK and Midtjylland to carry the Danish flag. It will be difficult, but it can happen.
Czechia
Here is a country with much potential. Czechia is one of three countries in this battle to have at least three teams representing them in a group stage in each of the last two seasons alongside Ukraine and Denmark. That has seen them collect 13.450 coefficient points over the last two years, which is 14th.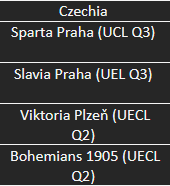 Sparta Praha stole the league title at the expense of local rivals Slavia Praha, who was not left empty-handed by capturing the cup. Fittingly, Slavia defeated Sparta in that final. Both teams will enter Europe at the third qualifying round, Sparta in the Champions League, and Slavia in the Europa League. Viktoria Plzeň saw their domestic form dip, finishing third. They join Bohemians 1905 in UECL Q2.
This could be another stellar year for Czechia in Europe. Sparta is assured group stage football, with Slavia very likely to join them. Plzeň is seeded throughout UECL qualifying, increasing the chances of three teams in the group stage once more. If Czechia does have three teams in the group stages, they will be a serious threat in this race.
Israel
Another country that has seen considerable improvements in recent years, Israel is now in the fight for a top 15 spot. The wonders of having three European regulars contributing to the coefficient. With exactly 13.000 points won over the last two years, Israel is 16th in that regard.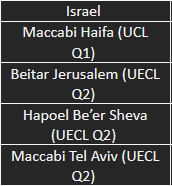 The country's current 'big 3' is back in Europe. Maccabi Haifa, fresh off a Champions League group stage appearance last fall, attempts to make it back there. They will have to do it the long way though, starting in Q1. Beitar Jerusalem won the Israeli Cup, allowing them to join Hapoel Be'er Sheva and Maccabi Tel Aviv in UECL Q2.
It will be intriguing to see how this campaign goes for Israel. They are very close to a top 15 place, and if Maccabi Haifa, Hapoel Be'er Sheva and Maccabi Tel Aviv can all make the group stages, this could be a really big year for their coefficient. Do not count this country out of this race, as they could be a real menace.
Greece
Last but not least, Greece is an interesting story. An inconsistent nation from a coefficient standpoint, they should be easily in the top 15. Instead, they start the season in 19th spot. Seeing that they have only collected 10.125 points in the last two campaigns (22nd), it is not a big surprise.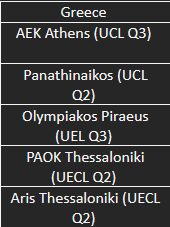 Stealing the league crown in a dramatic title race, AEK Athens can enjoy group stage football in the fall. They start in the Champions League's third qualifying round, one round later than Panathinaikos. Losing out on the title, they will start in UCL Q2. Olympiakos Piraeus benefited from AEK's domestic double, as the record champions start in Europa League third qualifying round. The two Thessaloniki-based clubs – PAOK and Aris – both enter UECL Q2.
It is difficult to predict what to expect from Greece. This could be another phenomenal year where at least four teams make a group stage, or it could be a nightmare of a year, where only one or two get that far. One thing is for certain: the potential is there. Greece could hardly ask for a better situation with their clubs and the competitions they are in. Now it is a matter of performing.
Season predictions: who will snap up the final two places in the top 15?
Personally, this race is always the biggest one regarding what is at stake. Direct clashes between two (or more) countries' clubs are always pulsating occasions, especially in winner-takes-all situations.
With that said, after careful consideration, here is my prediction as to who will finish where from 14th to 19th:
Ukraine


---

Czechia


---

Norway
Greece
Israel
Denmark
As always, predicting this battle is such a challenge. This could end up in so many different ways, but here is what I have come up with.
While I do not expect anything special from Ukraine, I think they will just do enough to hold off their competition for 14th spot. I can see one of their clubs making a run to a quarterfinal, confirming a top 15 place.
Who will take the last spot in the top 15? I would go with Czechia. Their group of teams, combined with where they all start, gives me reason to expect a very good year from them. They will likely have another solid seasonal coefficient, which will be hard to compete with. On that basis, I have them for 15th.
Norway will find it quite difficult to keep up with Czechia, and could actually have a disastrous campaign if they are not careful. I doubt that we will see more than two Norwegian clubs in the group stages, which will likely put them at a disadvantage to the Czechs.
As for Greece, I actually think they will have rebound well from last season's nightmare of a campaign. Of the six countries in this battle, I think they will have the best seasonal coefficient. Problem is, they are starting 3.500 points back of 15th. Too many things would need to go right for them. It is not impossible for them to snatch 15th though, just as Turkey proved in 2022/23.
While I think Israel could have a decent year, I expect some of their competitors to outdo them. That will be the difference for them. Their current 'big 3' could make things interesting if they get some decent draws. In the end, they will likely fall just short.
Finally, I expect Denmark to struggle keeping up in this race. AGF and Nordsjælland will both likely fall in qualifying, and I would not be surprised if Midtjylland does so as well. Thus, I cannot see them being a serious contender for 15th spot.
Regardless of the outcome of this season's battle for 14th and 15th, we will be in for another thrilling clash. This one will go into the second half of the 2023/24 season, so be sure to keep an eye on how this enticing race pans out.