Unique coefficient battle sees five countries compete for four unique spots
After an exciting 2022/23 season of football, attentions turn to the next campaign. The action will get underway next week with the UEFA Champions League preliminary round mini-tournament in Iceland. Four clubs from four different countries will be involved.
While many will be excited to see what comes in the new season, it will be important to know what is at stake from a coefficient standpoint. With the UEFA club competitions preparing for a massive reform from the 2024/25 season, many clubs will play their part in improving their country's UEFA five-year coefficient.
We have already looked at the battle for a top 50 spot, places from 31st to 38th, a top 22 position, and most recently, a top 15 spot. For this article the race for spots nine through 12 will be the focus. Five countries are set to feature in this race: Scotland, Austria, Switzerland, Serbia and Turkey. One of the five will finish out of the top 12 and lose out on an extra Europa League spot.
Each place in the coefficient ranking will vary; ninth awards a country a minimum of three groups stage spots; 10th place means a country will have an automatic Champions League place; 11th and 12th will both assure two group stage spots, plus a second Europa League place. This season's five-year ranking will be important for the 2025/26 European season.
This article will look at the countries involved, which clubs will represent them in Europe, as well as how recent continental campaigns went. Finally, a prediction as to who will finish where and why.
The countries involved
Countries starting the season in the top 10
Scotland
Last year did not treat Scotland well. None of their clubs got past the group stages. Furthermore, between Celtic, Rangers and Hearts, there were just two wins across the 18 group stage matches. That is a stark contrast to 2021/22, when Rangers reached the Europa League final. As such, Scotland has by far the worst coefficient haul over the last two seasons (11.400, 18th in the ranking) among the five countries involved in this race.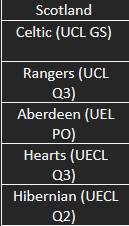 After successfully defending their title, Celtic will return to the Champions League group stage in the fall. The Hoops will be in Pot 4 once again for draw. Rangers will look to join them, requiring two qualifying rounds to get there. Aberdeen will be the other team assured group phase football, commencing in the Europa League playoff round. Hearts (Q3) and Hibernian (Q2) will be Scotland's Europa Conference League representatives.
Earning match points will be key for Scotland this time around. They struggled to do that last campaign, having won just 1.900 match points. At least one of Hearts or Hibs need to aim for a group stage spots. Fail to do so, and it could be yet another long year for Scottish football in Europe.
Austria
The next country in this race is Austria. Starting the campaign in 10th place, they are the first pursuers to Scotland's ninth spot. They earned the 11th most coefficient points in the last two years with 15.300. Bear in mind, however, that most of those points came in 2021/22, as last year was a substandard one from the Austrian sides.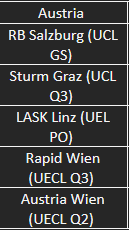 Little has changed regarding the Austrian representatives from last season to this. Red Bull Salzburg will once again enter the UCL group stage after wrapping up another league title. Sturm Graz will be in UCL Q3 again as league runner-up. LASK Linz replaces Wolfsberg in Europe, as they will start in the Europa League playoff stage. Rapid Wien will return to Conference League qualifying, starting in Q3. Their local rival Austria Wien enters a round earlier in the same competition.
Like most of the countries in this race, Austria is very much hit and miss regarding coefficient points. They have the right teams in Europe, but oftentimes the majority of them fail to deliver. If Salzburg can get some help, this could be another good year from them. Rapid and Austria Wien making the Conference League group stage will do the country a world of good.
Countries starting the season outside of the top 10
Switzerland
The most consistent across the last two seasons amongst the five competitors, Switzerland has gone from strength to strength of late. A whopping 16.250 points have been won over the last two campaigns, which is the 10th best in Europe. Another consistent campaign will surely see them improve further.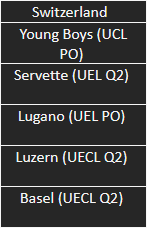 Young Boys took back the Swiss title after finishing third the year prior. They will enter the UCL's playoff round, assured a minimum of Europa League football in the fall. Servette will take the other Champions League place, starting in Q2. Lugano has the Europa League playoff round berth, and can count on Conference League football in the fall (at minimum). Luzern will join one of last year's UECL semifinalist Basel in Q2 of the competition.
There is more than enough reason for optimism for the Swiss football this season. Two group stage spots are assured, one is very likely, and Basel's large club coefficient increases the likelihood for four spots in the group phase. If Switzerland can collect another 8.000 to 8.750 points again, there is no reason to believe they cannot mount a serious challenge for a top 10 spot.
Serbia
It has been a steady rise for Serbia in the five-year coefficient ranking. From being in the 20s to moving up to the teens of the standings, Serbia is on the up. Now they eye for higher, as a top 10 place is still available for them. In the two most recent seasons, they have wracked up 14.975 points, the 12th most in that time.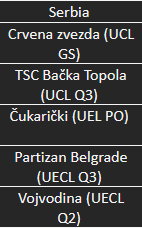 A sixth successive league title landed Crvena zvezda a place in the UCL group stage. Hoping to join them there will be Bačka Topola, who will be participating in a European group stage for the first time. They will enter the UCL at the third qualifying round. Another group stage debut is assured for Čukarički, who claimed the Europa League playoff spot. A substandard 2022/23 domestic season left Partizan Belgrade with a place in the Europa Conference League third qualifying, while Vojvodina will enter the third tier competition a round sooner.
Points could be hard to come by for Serbia if Čukarički and Bačka Topola fail to capitalize on their group stage showings. Of course, much of Serbia's seasonal coefficient will depend on Partizan Belgrade. Reaching the UECL group stage should be the minimum for the club, who has reached the competition's knockout stages in each of the last two campaigns. If they lose in qualifying, then this really could be a nightmare of a year for Serbia.
Turkey
A country that had went on the decline for a couple of years, Turkey is back on the up. A stunning 2022/23 has placed them in a decent position to attack for a top 10 spot. At one point, Turkey was a solid top 10 nation. After last season, they are looking like one. After all, they are ninth in the two-year ranking with 18.500 points won.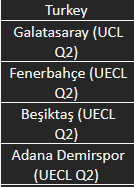 Taking the Süper Lig by storm, Galatasaray topped the table at season's end. They will be the country's sole competitor in the Champions League, commencing in Q2. The other three teams also start in the second qualifying round, but in the Conference League. Fenerbahçe kept the title race close, but had to settle for second place. They did win the cup though. Beşiktaş ended up third, while Adana Demirspor surprised many with their fourth place finish. They will compete in Europe for the first time.
This season could very well be another big one for Turkish football. Galatasaray has a very strong squad, that could go deep in the Europa League should they end up there. Even if they make the Champions League group stage, they could really give headaches there. Fenerbahçe, who is seeded throughout UECL qualifying, will also likely be one to watch. If Beşiktaş also makes the group stage (minimum), this could really see Turkey push for ninth spot.
Season predictions: who will end up where?
With automatic Champions League spots, and a second Europa League spot among the things on the line here, this will be a fascinating watch. It is difficult to predict who will end up where, but here is an attempt at choosing who ends up where. Here is what I predict:
Turkey


---

Scotland


---

Switzerland
Austria


---

Serbia
Despite going into this season almost 4.000 points behind Scotland, I have Turkey to finish ninth. Given the fact that their traditional 'big 3' are in Europe, this looks like it will be another quality year from them. Galatasaray and Fenerbahçe will likely earn a lot of points, while I can see Beşiktaş getting through ECL qualifying. If I am right on the latter point, Turkey will almost surely be looking at more than 10.000 points on the season again.
They will need a better season, but I can see Scotland holding on to 10th place. My reasoning for this is fairly simple: outside of Turkey, I just cannot see any of the other countries in this race doing enough to catch them. I think Rangers will end up in the Europa League and collect the requisite number of points to keep Scotland in the top 10.
As for 11th and 12th, I am going with Switzerland and Austria, respectively. I expect Basel to get past UECL qualifying, and assuming I am right on that, they will collect quite a bit of Switzerland's points. Young Boys will also chip in, while I can foresee Lugano and Servette holding their own. Those points should be enough to get Switzerland to 11th, but not any higher.
Austria will take the last top 12 spot. I doubt it will be anything flashy, but in the end I suspect they will hold off Serbia. Salzburg has the quality to finish at least third in the Champions League. Add to the fact that LASK Linz is back in Europe, and that could really push this their way. The reason why they will not be able to hit the top 10 is because I have qualms about the two Wien-based sides making the UECL group stage. If they do so, surely Austria will be in with a chance. Yet, I think that will make the difference between top 10 and just missing out.
Someone has to miss out on a top 12 place, and of the five countries, I have to go with Serbia. Having a guaranteed three teams in the group stage is fantastic. Having a further team be seeded throughout UECL qualifying is quite the help. Here is the thing: Partizan has been in dire straits for a bit, meaning there is a real possibility they could lose before the Conference League group stage.
Add to the fact that two of their representatives in the group stages will be debutants, and this does not look promising. While Serbia is more than capable of challenging for the top 12, I just feel they will not be able to do enough.
Regardless of the outcome, the battle for a top 10/12 place will be enticing to follow. There is so much at stake here, with almost all of the positions offering something different. Be sure to keep tabs on what will be a thrill of a battle. Time will tell who which clubs will hold their nerve and lead the way for their country.