Top four countries among favourites for new Champions League spots
The UEFA Champions League gets underway on Tuesday with the preliminary round mini-tournament. That will kick off the 2023/24 European season, with clubs from 54 national associations taking part.
This will be the last season with the typical group stage. Starting in 2024/25, that round will be replaced by a league phase. This is the most significant change regarding UEFA's reforms to their club competitions. Each of the three competitions will have 36 teams at the league phase, instead of 32.
In the Champions League, two of the new places in the league phase are not immediately distributed to a specific country. Instead, those two spots go to the two countries who obtained the best coefficient tally from the previous campaign. That would see the highest ranked team in that country's domestic league, not to have qualified for the Champions League proper, receive a spot in the tournament's league phase. All other European spots would be passed down.
This is a considerable change to what fans are used to. While all 54 national associations with clubs in Europe have a chance, realistically, only a select few will have any serious aspirations on claiming one of these spots. Those four countries are the top four in the UEFA country coefficient five-year ranking: England, Spain, Italy and Germany.
This is the final part of a series, previewing the coefficient battles we will see in Europe this coming season. Races for the top 50, top 33/38, top 22, top 15, top 10/12, and top five were all covered. Those races are all for the five-year ranking. Now the attention turns to the race for a top two ranking in the seasonal coefficient ranking.
In this preview, we will look at the four countries previously mentioned. A dive down into which clubs will represent each country in Europe this season, recent single-year coefficient hauls, and some other countries that could be part of this race. Finally, a prediction as to how this battle will pan out.
Countries featuring in the single year coefficient battle
England
English football has seen its clubs dominate in Europe for a large part of the last five seasons. Of the 12 most recent European trophies in that period (excluding the UEFA Super Cup), a Premier League club prevailed five times. Three all-English finals occurred as well.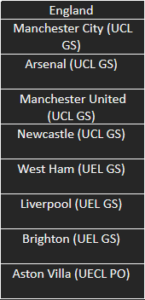 It will be a very strong lineup of European representatives for England. Manchester City captured the treble in 2022/23, winning the Premier League, FA Cup and their maiden Champions League crown. They will be joined by Arsenal, Manchester United and Newcastle in the UCL group stage. West Ham, the Europa Conference League holders, will be joined by Liverpool and Brighton in the Europa League group stage. As for Aston Villa, they enter the Conference League at the playoff round.
Over the five most recent campaigns, England picked up a total of 109.570 coefficient points, averaging 21.914 per season. Only once – back in 2019/20 – did England not reach 20.000 points in the single-season coefficient. As a result, they will be favourites to finish in the top two of the seasonal ranking come next June.
Spain
The other country to have a European winner in 2022/23, Spanish sides regularly dominate in Europe. A Spanish club has not lost a European final against a non-Spanish team in over 20 years. That goes to show just how strong Spain's teams are in UEFA club competitions.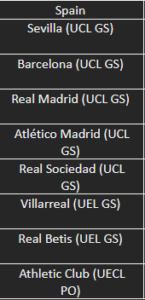 It will be a very impressive lineup of clubs representing Spain in Europe for the new season. Europa League holders Sevilla joins Barcelona, Real Madrid, Atlético Madrid and Real Sociedad in the UCL group stage. The Europa League places went to Villarreal and Real Betis. As for the Europa Conference League playoff spot, Athletic Club will claim that place for now as Osasuna, the side that initially had the spot, was kicked out by UEFA. They will appeal the decision, and could win it back.
The 16.571 points earned in the 2022/23 season was Spain's lowest in 10 years. It was also the first time since the 2012/13 campaign that Spain did not obtain at least 18.000 points. With that said, the Spanish clubs will certainly have another strong season, giving the Iberian country more than a decent chance of finishing in the top two of seasonal coefficient for the first time since 2020/21.
Italy
Over the last two seasons, Italian football gas enjoyed a renaissance of sorts. In that time, there have been four finals to feature a Serie A club. Just last season, Italy had five semifinalists across the three competitions. No other country had more than two.

Italian representatives in the 2023/24 European season.Scudetto winners Napoli had a stellar 2022/23 campaign and fully deserved their place in the UCL group stage. Joining them there are Lazio, Internazionale, who lost the Champions League final in June, and Milan. Atalanta will play Europa League football alongside the beaten finalists from last May, Roma. As for Juventus, they are currently slated for the Conference League place, though they may end up having to surrender their spot. Should they do so, it will be Fiorentina, who lost the last UECL final to West Ham, to take their place.
For the third year running, Italy earned at least 15.000 coefficient points in one term. That makes things more promising for them heading into 2023/24. With an average of 16.385 points won over the last five seasons, there is no reason to believe that Italy cannot mount a serious challenge for a top two finish in the 2023/24 single season ranking. After all, they did finish second last year with a stunning 22.357 points.
Germany
German clubs have had some solid success in Europe over the last few years. Bayern Munich and Eintracht Frankfurt have both won European trophies over the last five years. Outside of that, Bayer Leverkusen and RB Leipzig also reached European semifinals in that time.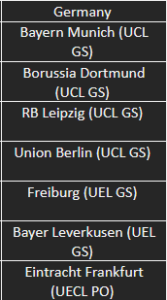 Bayern stole the Bundesliga title on the last matchday at the expense of Borussia Dortmund. Both sides enter the Champions League group stage along with RB Leipzig and Union Berlin, who will be playing in the competition for the very first time. Bayer Leverkusen returns to the Europa League off the back of their semifinal showing. They are joined by Freiburg in that UEL. Eintracht Frankfurt makes their Conference League bow, entering at the playoff round.
The German single-season coefficient haul has remained steady in the last five years. Earning anywhere between 15.214 and 18.714 points, their average sits at 16.471 a season. We can expect another solid year from the Bundesliga clubs in Europe as a result.
Other countries with a small chance at a top two seasonal finish
While England, Spain, Italy and Germany will be the ones most likely to finish in the top two of the seasonal coefficient ranking, there are some other countries that may have a say as well. Here are five other countries that could have a very good year and sneak into the top two.
Although they are battling it out for fifth spot, both Netherlands and France have to be considered the next best choices to a claiming the most coefficient points in 2023/24. After all, the Dutch and french finished second and third in the 2021/22 season, respectively. If all of their clubs can get out of the group stages again, they are in with a decent chance.
Two countries who are pretty much safe in their five-year country position are Portugal and Belgium. The former will have their usual suspects in the UCL/UEL, while Arouca and Vitória Guimarães have to prevail through multiple qualifying rounds in the UECL. If Portugal's 'big 4' clubs get some help, it could be another really good year for the country.
Belgium, meanwhile, is coming off a record year from a coefficient standpoint. The 14.200 points achieved in the 2022/23 season is the most they have ever earned in one term. Antwerp (UCL PO), Genk (UCL Q2), Union St. Gilloise (UEL PO), Club Brugge and Gent (both UECL Q2) make up Belgium's European representation. As both Club Brugge and Gent are seeded throughout UECL qualifying, there is a high chance both will make the group stages. From there, things could go from strength to strength for Belgium.
Turkey was the other country to surpass 10.000 coefficient points last season. They could be in for another massive year as their traditional 'big 3' are all in Europe. If they all play to their potential, and the stars align, Turkey could very well make a surprise appearance in the top two of the seasonal coefficient ranking.
Season prediction: who will be the two best countries in 2023/24?
As it always has been, every match in Europe matters. However, with the addition of this new single-season ranking to hand out Champions League spots, continental matches will have even more meaning than ever before. Not only are clubs pushing to win trophies themselves, now the points they accumulate for their country have even more significance.
The question that now remains is: who will win these top two spots? It will be interesting to see how it pans out, but here is my prediction as to who will be the too two at season's end.
In four of the last five years, England and Spain finished in the top two of a seasonal ranking. Germany and Netherlands are the other two to have achieved that, both once each.
How likely is it for Top 4 leagues to get these additional two places, we can check by seeing who finished Top 2 since the start of century:

🇪🇸 17 times
🏴󠁧󠁢󠁥󠁮󠁧󠁿 14 times
🇩🇪 6 times
🇮🇹 4 times
🇫🇷🇷🇴🇺🇦🇵🇹🇳🇱 1 time each

41/46 times Top 4 league was Top 2 in one-season rankings.

(10/12) pic.twitter.com/OhIDPN6vwu

— UEFA Rankings (@UefaRankings) June 17, 2023
Last year, England and Italy finished in the top two, and in dominant fashion. Of the four countries who are favourites to steal a top two spot, I think Spain has the strongest European contingent among their clubs. Following them, I would say Italy.
Looking at the European representatives, of the top 15 countries (via the current five-year ranking to start the season), Italy and Belgium are the only countries where all their clubs competing in Europe use their own club coefficient. That may seem insignificant, but this gives Italy a massive advantage I think.
Building on last season, I think Italy will finish in the top two. It is a very strong group of clubs Italy has at their disposal, even if Juventus gets banned. I have them to finish second to England again. While Chelsea and Spurs missing out may be damaging for England's coefficient haul, there is more than enough quality for them to end up on top once again.
Germany's teams are still pretty solid, but going up against the competition they will be going though will likely be too much for them. I cannot see there being more German teams at the quarterfinal stage than English and Italian sides. Thus, I feel Germany will miss out.
As for Spain, while they often dominate the Europa League, only Real Madrid has done anything meaning in the Champions League over the last 2-3 years. Since I cannot see that changing in 2023/24, that will see them miss out on a top two finish.
We are in for an enthralling battle for the top two coefficient places in the seasonal ranking. Whoever ends up being the top two countries, they will have had to earn it. So, expect some high coefficient tallies this year, as its prevalence has grown considerably.