Netherlands vs France in huge coefficient battle
As the European club competitions are about to get underway, there will be several matches and teams to enjoy watching. The Europa Conference League has been a roaring success in its first two editions, with the third surely to live up to the same standard.
After the 2023/24 season, UEFA's club competitions will undergo a radical change. As a result, the UEFA five-year country coefficient ranking has become more prevalent than ever before. The most important thing to know about the ranking is this: every match in continental play matters as coefficient points – both for club and country – are on the line.
So far in this season's coefficient preview, we have covered multiple battles, which includes the top 50, places 31 to 38, a top 22 spot, the top 15, and positions nine through 12. Now, attention turns to the last battle in the five-year ranking: the race for fifth place.
Netherlands and France will compete for this spot. The major difference between fifth and sixth in the new access list will be one extra Champions League place. On top of that, fifth place will have two automatic Europa League places to one for country six. The Europa Conference League berth for the fifth ranked country will be a place in playoff round. As for the sixth ranked country, their UECL representative would start in the second round of qualifying. Note that this would occur for the 2025/26 season.
In this preview, we have a closer look at both Netherlands and France, which teams will represent in Europe, and how both countries have done in the last two years. Plus, a prediction as to who will claim fifth spot at season's end.
The countries involved in the battle for fifth spot
Netherlands
It was just five years ago, Netherlands finished the 2017/18 season in 14th spot in the five-year ranking. Back to the present now, and the Dutch sits in fifth place to commence the 2023/24 ranking. That is thanks to back-to-back seasons with more than 10.000 points won. In fact, they have won the fifth most points over the last two years, with 32.700 points. It has been a rapid rise for Netherlands, and there is no reason to think they cannot do one better in 2023/24.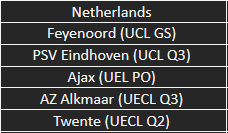 An Eredivisie campaign where they lost just twice, Feyenoord topped the table in convincing fashion to claim the country's sole Champions League group stage place. PSV finished second, picking up the KNVB Beker in the process. They will enter the UCL's third qualifying round, looking to make a return to the group stage. Ajax finished third in the league, leaving them with the Europa League playoff place. AZ Alkmaar made the Conference League semifinal last season, and will aim to do it again in 2023/24. They start in the third qualifying round, with Twente entering a round earlier.
It will be the same five teams as last season for Netherlands in Europe. Feyenoord and AZ have done quite a bit of the work for the country coefficient over the last two years. That is thanks to deep runs in the Europa League and Europa Conference League. Those two, alongside Ajax and PSV, have the ability to keep that up in the 2023/24 campaign. If all five clubs play to their respective capabilities, this will be another quality year for the Dutch.
France
It always seems that France is locked in fifth spot, unable to go up or down the rankings. Bar a very brief period where Portugal leaped ahead of them (only to reclaim fifth spot a week later), they have held onto a top five place for quite sometime. Now, they are the ones doing the chasing. It is an unfamiliar position for France to be in, as they need a solid year to grab fifth place again. Perhaps it is fitting that French two-year coefficient is 30.099, sixth in that time frame.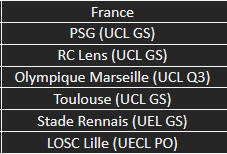 As they regularly do nowadays, PSG claimed the Ligue 1 title. It was closer than they might have wished, but the result is still the same. They will be joined in the UCL group stage by Lens, who put together a wonderful campaign to finish second. Marseille, who just missed out on a top two finish, enters the third round of UCL qualifying. Cup winners Toulouse is joined by Stade Rennais in the Europa League group stage. Meanwhile, Lille ended up in sixth place to earn a spot in the UECL playoff round.
Since 2014/15, there has only been one season in which France did not end up earning at least 10.000 points in a campaign. That is quite remarkable consistency, highlighting why it has been so difficult to knock them off of fifth place. With that in mind, there is a nice mix of French clubs in Europe. A proper team effort will be required from France's six European sides to retain fifth. The ability is there, it is just now a matter of performing to their fullest.
Season prediction: who will claim fifth spot?
The real million dollar question is this: which one of Netherlands and France will end up in the top five of the five-year country coefficient ranking at season's end? Both have been very strong over the last two years, making it an incredibly difficult choice.
Here is something that is pretty much a certainty: whichever country collects more points in the 2023/24 season will finish fifth. Including the UCL bonus points already assured, the difference between Netherlands and France to start the season is just 0.186 points. Thus, it will be a simple matter of who earns more coefficient points next season.
The last time France won more points than Netherlands over a single term was back in 2019/20. The difference then was over 2.000 points. In the three campaigns since, Netherlands has had the edge, but always by less than 2.000 points.
As for my prediction, I believe it will be an intense and very close race. In order for Netherlands to really put themselves in a good position come the group stage, they need all of their teams to make a group stage. AZ is seeded throughout qualifying, and will likely return to the UECL group phase. Twente is unseeded in the Conference League playoff round, meaning a potentially difficult clash in that round. So long as Lille wins their UECL PO tie, France will not have much to worry about.
Who will finish higher? I think that will go to France. Assuming that Ajax, PSV, Feyenoord and AZ make the knockout rounds for the Dutch, France would need minimum five clubs playing knockout round football. I can see this happening. Lens and Toulouse may be question marks, but outside of that, it is very likely that there would be at least four French clubs in a knockout round. Here is my feeling: whoever ends up with more teams at the quarterfinal stages in Europe, that country will win. This is where I think France has the upper hand.
I believe Netherlands will have at most two teams left in the quarterfinals, likely Ajax and PSV or Ajax and AZ. For France, I predict they will have three: PSG, Marseille and Lille or PSG, Rennes and Lille. That will surely make or break this clash.
It will be a battle for the ages between Netherlands and France. Two renowned footballing nations have a lot to play for in 2023/24, with any potential meetings between French and Dutch clubs being monumental. That could swing this race either way.
Whoever ends up fifth at season's end will have earned it. We can be assured of a close race between the two, that is for sure. Regardless of who wins, this is one of the battles that will go down to the wire.